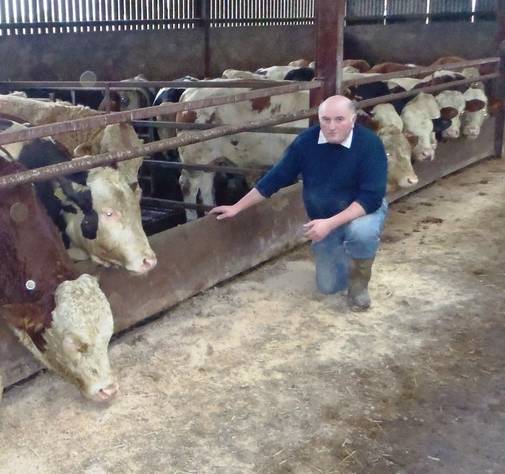 Slatequarry Farm was purchased in 1953 by Thomas James Hamilton and his wife Lily with the intention of creating a better life for them; a year later their first dairy cows were purchased and from then the farm grew from strength to strength!
In 2002 the third generation of Hamilton's started work on the farm. After 50 years in the dairy industry Slatequarry farm became restless with their Holstein herd and in 2003 while on a peace II funded trip to Germany, Fleckvieh were discovered. After much research it was soon realised that Fleckvieh cattle were the answer to a prosperous future with a promise of a long lasting easy care cow with dual purpose, and in 2005, Slatequarry Farm decided to import 30 Fleckvieh Heifers and start to cross breed them with their own pedigree Holsteins.
By 2007, the success of Slatequarry farm's cross breeding of Holstein with Fleckvieh became widely known and prompted the development of S.Q. Fleckvieh Genetics, in which the farm attained the rights to distribute Genetic Austria Semen. They chose this particular semen due to their superior udders and milking capabilities.
The first F1 cows are now on their 5th lactation and have matured with age with excellent feet and legs, and are averaging 8000 litres. When the first Fleckvieh cross was introduced in 2005, fat and protein was 3.8% and 3.2% respectively. These figures now stand at 4.3% fat and 3.6% protein.
After several years working with, and breeding Fleckvieh on their own farm, S.Q. Fleckvieh Genetics have great confidence in this breed, and are now selling both livestock and semen. Visitors are very welcome to come to their farm and see their milking Fleckviehs and stock for sale.
S.Q. Fleckvieh Genetics are the sole distributors for Fleckvieh semen and livestock from Genetic Austria in Northern Ireland; they also supply to the Republic of Ireland.